Gallery
Bamboo Shoots 3D Enhanced Private Pair Etched Glass Doors Asian Decor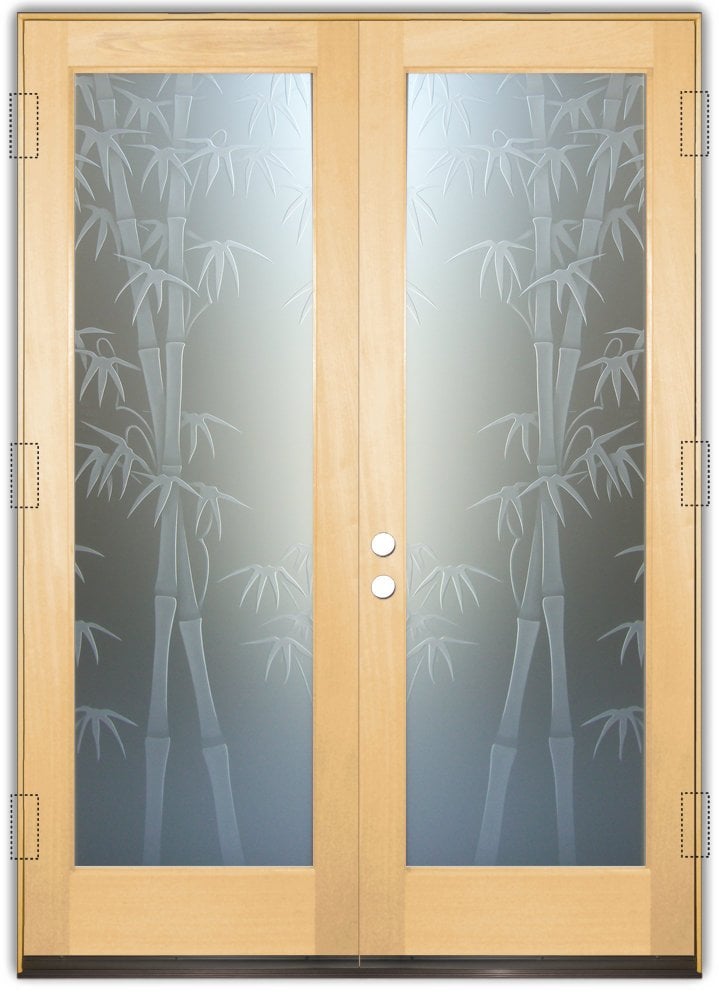 Also Available in These Effects
Name:

Bamboo Shoots 3D Enhanced Private Pair

Price:

FOR PRICING, CLICK THE GREEN BAR ABOVE!

AVAILABLE FOR PURCHASE ONLINE

in our fun, easy to use

GLASS DOOR DESIGNER!

Technique:

THIS GLASS IS 100% PRIVATE

3D CARVED, ETCHED FROSTED GLASS

GLASS IS HAND SANDBLAST ETCHED & CARVED,

CUSTOM MADE-TO-ORDER!

Features a sculpted, relief texture of varying depths.

Edges of carving will illuminate bright as they pick up

and reflect surrounding light.

Specifications:

Bamboo Shoots 3D Enhanced Private Pair Etched Glass Doors Asian Decor - Beautifully Carved Glass

CLICK GREEN BAR ABOVE TO CUSTOMIZE & BUY!

This design is 3D Carved, 100% Private, Etched Glass Doors Asian Decor and features Sans Soucie's Bamboo Shoots 3D Private Pair. With its beautiful bamboo design you'll feel like you're in a forest!  This door can be customized  and purchased online!   Inside our Glass & Door designer  you customize everything about your Glass and Door!  Specify your size, choose from 8 wood types and experiment with different designs in different effects, getting instant pricing as you go along!   What you see is what yo get:  your door and glass change LIVE as you make your selections!  Design to your hearts content until you come up with just the right look with just the right  privacy!  Remember:  

All designs are available in all effects!

  So if you don't see what you're looking for, just contact us and we'll give you custom pricing, and create the design in whatever effect you need!

AVAILABLE:

• Any Size

• As Glass Insert only or

• Pre-installed in a Door Frame

• Entry and Interior

• 8 Wood species and Fiberglass

• Shipping is $99, or $199 to some Eastern states

• ETA will vary 3-8 weeks depending on glass and door type

Looking for ideas for your front entry?

HOW MUCH, HOW LONG

Solid Frost effects and Doug Fir doors have the quickest turn-around - 3 weeks to your door step.   Specialty  Glass effects (2D, 3D and Stained Glass), and our Specialty Woods (all woods except Douglas fir), will require approx. 8 weeks.

PRIVACY

Our art glass designs are etched and carved into the glass by sandblast glass etching.  Different effects create different levels of privacy and PRICE - and we offer it all!   From a little to a lot, any design can be sandblasted in any of our effects - giving you the privacy you need, however much it may be!   Check out this same design done different to see what we mean.

At Sans Soucie, we're able to offer you a huge range in price:  $45-260/sf.  That's because we've taken the same design and sandblasted it different ways.   Our Solid Frost Effects are the most cost effective, while our 2D Etched, 3D Carved and Stained Glass are the higher end effects.   That's because THOSE effects require a much higher skill level, and a lot more time to create.  Because our designs are high quality, hand drawn custom creations made for specific jobs, from project to project (not clip art!),  ANY effect will be a beautiful work of art, regardless of which effect you choose.

That's the best part about Sans Soucie Art Glass:   Every design is a high quality, custom made work of art - all available in a huge range in price.

GLASS SPECS

All Door glass will be tempered.  Interior doors will have 1/8" thick glass for Solid Frost Effects, and 3/8" thick for 3D Carved.   Exterior doors will be dual pane, insulated glass units (or a single 1/2" thick pane for fiberglass doors).  The panes in the insulated glass unit will be in various thicknesses and types depending on door location (interior or exterior) and the sandblast etched effect selected.   With the exception of the Positive Effect, all sandblasting will be sealed to the inside of the dual pane unit.  While this is not a must, it's just a nice convenience to have it sealed to the inside.  Sandblasting is tough and lasts forever - so exposed sandblasted surfaces are perfectly safe!   Learn more about glass make up.

WOOD TYPES

Selling both doors and the glass inserts alone, Sans Soucie offers 8 woods as both a  slab door or prehung in the jamb - any size is available, so if you don't see your size, please contact us for a custom quote!

CUSTOMIZE JUST THE WAY YOU WANT IT!

Inside our fun, easy to use online Glass and Door Designer you'll get instant pricing on everything as YOU customize your door and glass!  When finished, you can place your order online!   We're here to answer any questions so please call (877) 331-339 to speak to a knowledgeable rep!   Doors ship worldwide at reasonable prices from Palm Desert, California with delivery between 3-8 weeks depending on door material and glass effect.