Gallery
Rugged Retreat Peak 3D Frameless Glass Doors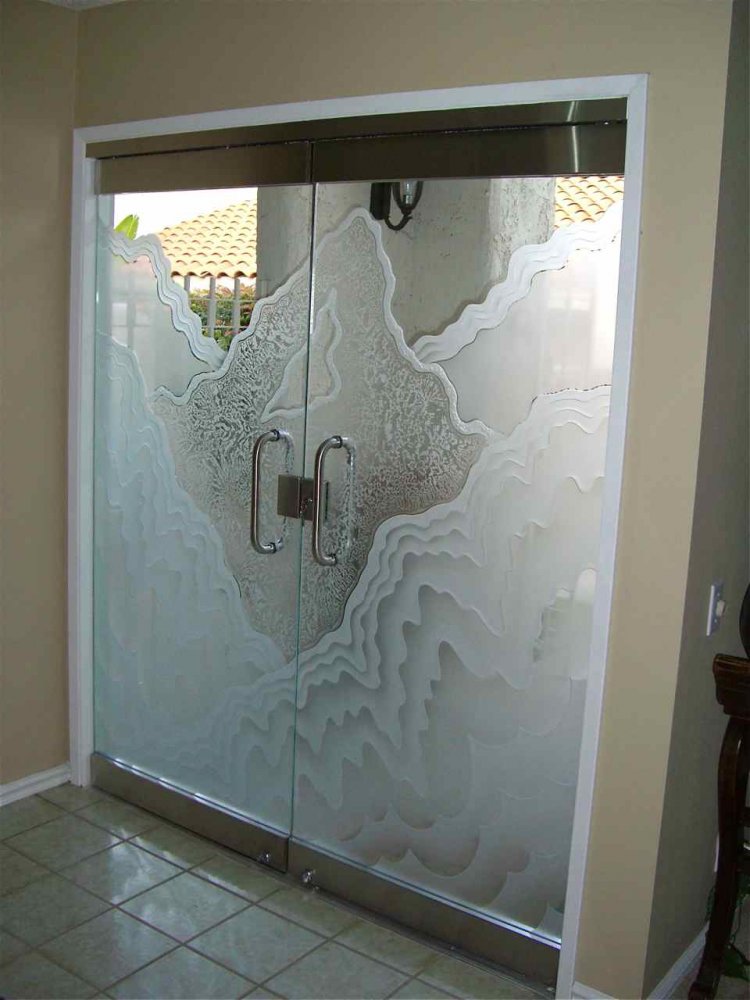 Also Available in These Effects
Name:

Rugged Retreat Peak 3D Frameless Entry Doors

Price:

$9,200

Technique:

3D SHADED GLUECHIP

This glass is semi-private.

Design elements are Sandblast Sculpted, 3D Carved creating a relief texture of varying depths.  Edges of shapes will illuminate bright.  Sandblast technique includes areas of  "shading", where the sandblast density gently fades back out to clear glass, (a "gradient-like" technique), creating dimension in the design elements.  For additional obscurity, the background has been gluechipped – a process that chips up the top surface of the glass.

Specifications:

Each Door: 33" x 78" x 1/2"  Clear Tempered Glass.  Hardware is a Brushed Stainless Finish.

Rugged Retreat Peak 3D Frameless Glass Doors - A beautiful scene that brings the outdoors into your home or business.

First impressions count!  Whether it's front entry or interior glass doors, the first focal point of an entry into a home, business or office are the DOORS!  Sans Soucie Art Glass transforms an ordinary entry into an exquisite work of art thru their signature frameless glass doors with etched glass designs!  Choose from our huge collection of designs or let us create a new design according to your specifications!

   

• Any Size, Any Design on Any Product

• Entry or Interior Doors

• Worldwide Shipping

• Custom Made to Order

• Sandblast Etched & Carved Glass

This Sans Soucie design is 3D Carved & Gluechipped and features Sans Soucie's Rugged Retreat lll design.

 

This Frameless Glass Door design features 

a beautiful outdoor scene that speaks to the nature lover in all of us. 

.  This design is semi-private. We will re-create (re-draw) the design to fit perfectly into your specific glass size and configuration.  You will receive a scale drawing for approval. Remember:  

All designs available in all effects!

  If you're not finding the perfect design to suit your decor simply contact us with a description of what you're looking for.  We'll quote the glass, and then create the design you have in mind, in whatever effect you need!

Looking for ideas for your front entry?

Grand Entries that Make a Statement.

Etched Glass by Sans Soucie adds a unique, custom element to your entry.  Creating privacy, without sacrificing light, thru gorgeous works of glass art!

DESIGN

From simple frosted glass effects to our 3D sculpture carving, painted and stained glass .. and everything in between, Sans Soucie designs are created thru sandblasting .  Using various techniques, we can sandblast the same  design in different ways, resulting in different effects and price levels.  The "same design, done different" - with no limit to design.  Creating custom glass in a vast array of glass products since 1976, there's something for every decor.   Choose from our large collection of design archives or let us create a new design to your specifications.   Price will vary by design complexity and type of effect.  Learn more about our effects.

HOW MUCH, HOW LONG

Frameless glass doors will typically have a 6-8 week turn-around because in most cases the glass effect chosen will be one of our Specialty  Glass effects (2D, 3D and 3D Painted).   If a Solid Frost Effect is selected in a Sans Soucie Design, turn-around can be 4-5 weeks.  All new designs requiring custom scale drawings for approval, regardless of effect, will require a minimum 6-8 week turn-around.   Everything is custom made to order and ships worldwide to your door step.  Domestic transit times are 1-5 business days.  International is typically 5-7 business days.  Learn more

PRIVACY

From a little to a lot, get the privacy you need without sacrificing sunlight. Glass can be 100% obscure private, semi-private or not at all - just choose what you need.

GLASS SPECS

All glass will be tempered.  Exterior frameless glass doors will be 1/2" thick.  Interior Doors will be 3/8" or 1/2", depending on area and application.

METAL & HARDWARE

Selling both interior and exterior, hardware is available in a variety of popular metal finishes such as stainless, oil rubbed bronze and polished chrome.   Interior glass doors will include wall mount hinges and solid metal door pulls. Exterior doors will include top and bottom metal rails or patch fittings, header with concealed hydraulic closures, vertical jambs, lock box, threshold, standard tubular back-to-back door pulls and weather stripping with mohair door seals.  Custom pulls are available - see a variety of them at the bottom of the Gallery page.

HOW TO GET PRICING AND PLACE AN ORDER

Start by completing a Quote Request.  We'll reply with any questions.  You'll receive a price within 1-4 business days.  From there, orders are placed with a 50% deposit, balance due on shipping.  You'll receive a custom scale drawing of your doors within 7-8 business days from your order date.  When your doors are finished, we will email you a shipping notification with tracking number and contact info. for the freight company.    In the meantime, we're here to answer any questions so please call (877) 331-3397  to speak to a knowledgeable representative!

SHIPPING

Glass and doors ship worldwide, custom hand packed and fully insured.  Shipping starts at just $69 for Wood Frame doors, and will average $199-300 for Frameless.  Learn more

Type of Piece:

All Glass Frameless Entry Doors

Price Includes:

Note: Doors are 78″ tall (NOT 8′ doors).