The Art of Leaded Glass
A Stunning Look
Built for Beauty and Longevity.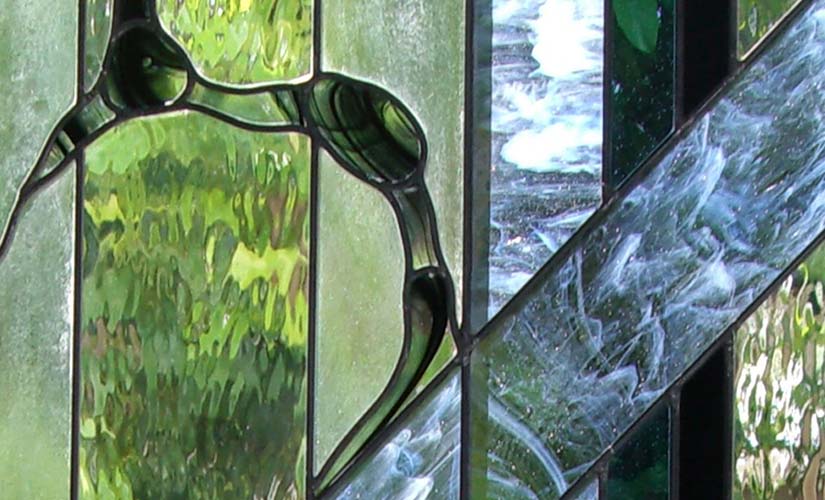 Stained glass windows have been gracing the homes of the elite for centuries. Nothing can enrich and transform a room or entry quite like a beautiful stained glass window. Built for style and longevity, designs are created to suit any décor style from contemporary to traditional, in virtually any shape or size. As with all Sans Soucie Art Glass, each piece is custom made to order to your specifications.
Stained glass for windows and doors is created by taking glass that is typically 1/8″ to 3/16" thick, cutting it into small pieces and assembling each piece into a design pattern, into a rigid frame. Each piece of glass is set together in a framework of strips of lead that are joined and soldered together. The overall thickness of the art glass panel is 3/8″ thick, due to the width of the metal frame. For exterior applications, the art glass panel is first meticulously cleaned to perfection by our glass artists, then sealed between two layers of 1/8″ tempered glass, creating what's known as a "triple pane unit" that will be a minimum of 5/8″ thick overall.
   How much, how long?
Stained glass is requires much time and skill and is in the highest price level of all the art glass types we create. Price will vary by design complexity and the glass types and textures selected for use within the design, with an average square foot price starting at $195. Glass ships worldwide, fully insured, and is custom packed in-house by our expert artist glaziers. Domestic transit times range between 2-4 days, international will average 5-8 business days.
   What You'll Get.
First and foremost, you'll get quality! Each piece is meticulously hand-crafted with attention to every detail in the design and assembly. For interior use, you'll get a single pane of art glass, with a lead perimeter frame that will be approx. 3/8″ thick overall. For exterior, you'll get a triple pane, insulated unit with the art glass panel sealed between two layers of 1/8″ clear tempered glass, with the overall thickness of the triple pane unit being 5/8″ thick minimum.
Sans Soucie creates custom designed stained glass windows and doors for both residential and commercial projects.