Interior Prehung Doors | Interior Slab Doors | Frosted Glass
Interior Prehung Doors and Slab Doors for Privacy and Light!
Discover the perfect blend of privacy and luminosity with our frosted glass interior prehung doors and interior slab doors.
Interior Slab Doors and Interior Prehung Doors with Frosted Glass Elegance in Every Design.
Handmade in the USA by our master craftsmen in the fine art of sandblast frosted glass etching and carving with over 50 years experience.
Interior Prehung Doors and Slab Doors for Privacy and Light!
Discover the perfect blend of privacy and luminosity with our frosted glass interior prehung doors and interior slab doors.
Interior Slab Doors and Interior Prehung Doors with Frosted Glass Elegance in Every Design.
Handmade in the USA by our master craftsmen in the fine art of sandblast frosted glass etching and carving with over 50 years experience.
How to Customize & Buy Your Slab and Prehung Door
Choose Your...
Choose a Design.
Or Let Us Make YOURS.
Choose from our vast collection of designs across every decor, or let us create a brand new one-of-a-kind design per your specifications. Let us turn YOUR vision into a reality! If you can dream it, we can make it. The sky's the limit when it comes to design.
What People Are Saying

I purchased 3 doors from San Soucie Art glass , they are very high quality and look amazing on my home . I purchased 3 doors from San Soucie Art glass , they are very high quality and look amazing on my home .

Beautiful from all angles
These folks are amazing. They built a gorgeous door with a most intricate feather, of which we had provided a rough sketch. It arrived immaculate, and was built to spec. The glass is opaque for privacy but we ... Read More These folks are amazing. They built a gorgeous door with a most intricate feather, of which we had provided a rough sketch. It arrived immaculate, and was built to spec. The glass is opaque for privacy but we have a color changing slow fade light on one side, and it is so beautiful from all angles. Great company to work with!!

Brings beauty to my every day!
Ordered an extraordinary set of glass in my office doors - it brings beauty to my every day! Ordered an extraordinary set of glass in my office doors - it brings beauty to my every day!
Pricing
About Our Price Options
Lead Times
What Factors Impact Our Lead Times
Privacy
Choosing the Right Glass for the Privacy You Need
Frequently Asked Questions
What is a Slab Door?
A slab door is just that: a door.  It doesn't come with a bore hole, hinges or a latch. It is the responsibility of the homeowner or installer to choose the proper hardware and mount it correctly. Slab doors offer essentially a blank slate: Everything but the door type is malleable. You will want to purchase a slab door if you already have an existing door and want to replace it or if you already have jambs.  Read this article about slab and prehung doors for more details.
What is a Prehung door?
A prehung door comes already hanging on its own frame. It is a fully self contained unit, complete with a slab door, hinges and outer frame (jamb) that fits into a prepared doorway. Not included are the casing and the door knob or knob/deadbolt. You will want to purchase a prehung door if your home or building is new construction and no door has been installed in this location before. The other reason to purchase prehung is if your existing door frame (a.k.a. jamb) is damaged or warped.  Read this article about slab and prehung doors for more details.
Is the Glass Tempered?
Yes. With the exception of tables, shelves and mirrors, all glass will be tempered for safety.
Will my door be ready for paint or stain when it arrives?
Your Door Will Arrive Unfinished & Require Prep Work.   Prep work will include using wood filler to fill the small staple and/or nail divots that will be in the door stops where they were nailed into place to secure the glass.  It's important to know that these as well as small imperfections or chips are a common occurrence in untreated and unfinished wood.  Wood is a natural material and can have knots, cracks and other variations that can effect the surface.  To prepare the wood for staining or primed door for for painting, it is necessary to address any small imperfections or chips.  This can also include small scuffs that occasionally occur in shipping, that may need to be sanded, or will be painted over.  This is a normal part of the prep work and should be expected.   See this sheet for examples of staple divots, small chips, scuffs or imperfections that will require filling and sanding as part of the normal prep work to be expected.
How long will it take to receive my door once I place my order?
It all depends on the Effect, Door Material and Door Size you choose.  Watch this helpful video all about our lead times for details.  Our lead time will typically range between 2-3 weeks or 6-8 depending on door size, material type and which sandblast effect.  1D and 3D solid effects will be 2-3 week lead times. All 2D and 3D Enhanced effects will be a 6-8 lead time. A custom door size (doors that are NOT 24, 28, 30, 32 or 36″ wide, and that are NOT 80″ or 96″ tall), and all other materials except Douglas Fir and Fiberglass will take 6-8 weeks. Standard Door sizes (listed previously), Doug Fir, Fiberglass, 1D and 3D Solid effects take 2-3 weeks. Shipping time will vary based on your state, and ranges from 1-5 business days.
What kind of Warranty do I get with my Door?
GLASS doesn't have a warranty.  For a period of one year from date of shipment, all T.M. Cobb manufactured stile and rail doors shall be free of defects which render such door(s) unserviceable or unfit for ordinary recommended use.  Warranty is extended to original buyer or end user and is not transferable.  Please see the official Warranty Sheet here.
Can Sans Soucie Paint my Door?
Sorry, but no, Sans Soucie does not paint or stain the doors. They will arrive to you as natural, unfinished wood, or primed, and will require prep work.
Does Sans Soucie "make" the door frame?
No, we don't. Our doors are purchased primarily from T.M. Cobb, a door manufacturer and wholesaler that's been in business since 1935!
I need a door size not listed on your website. How do I get it?
Submit a Custom Quote Request by emailing us at sales@sanssoucie.com.
Are the doors "solid wood?"
The doors are SOLID (not hollow), but not solid WOOD. They are veneer doors.  A Veneer door is FAR better than a solid wood door because a solid wood door WILL WARP over time. The CORE of a veneer door is called an "Engineered Wood Substrate".  The huge advantage is that unlike a SOLID WOOD DOOR, IS THIS MATERIAL IS FAR LESS PRONE TO WARPING.   See our sheet about Veneer vs. Solid Wood Door Advantages.
How thick is the wood veneer?
The veneer is 1/16" thick. This thickness allows for multiple refinishes over the life of the door.
Do you sell door knobs?
Sorry, but no.
What wood species do you sell?
Primed, Doug Fir, Oak, Mahogany, Cherry, Hickory, Maple, Knotty Alder and Clear Alder. For exterior doors, we also offer Fiberglass doors in two finishes: smooth surface and wood grain.  See our Wood Species Guide here.
How do I make a door purchase?
Doors and door inserts can be ordered online through our Online Door and Glass Designer. Select a product and our system will walk you thru our fun, easy to use designer where you'll customize everything about your Door!
If I have a pre-existing rough opening, how do I know what door size to order?
The rough opening should be 2" wider and 2" taller than the size of the door. Example. A 28" x 80" door would require a 30" x 82" rough opening. This takes into account the thickness of a standard 3/4-inch door jamb on each side, giving you approximately 1/4" to 1/2" inch of room on both sides to plumb, level and square the door within the rough opening with wood wedges, called shims. See our guides: Interior Suggested Rough Openings, Exterior Suggested Rough Openings.
What should a rough opening be for a wood interior door?
2″ wider and 2″ taller than the size of the SLAB DOOR.
How do I find a qualified door installer on my end?
Here are some recommendations:
(1)  Visit the BBB website has a list of qualified glazing contractors both accredited and non-accredited.
(2)  Contact a Contractor or Architect and they will be able to refer you to a door company they use.
(3)  Google "Door Installers", your city, your state. You will see your local glass companies with ratings.
(4)  Ask anyone you might know if they have a recommendation for a good Door shop.
(5)  If you live in a development try asking your HOA.
How thick will my interior door be?
Your interior door will be 1-3/8″ thick.
How thick will the glass be?
Glass thickness varies by type of product and sandblast effect.  For slab and prehung doors and door glass inserts, you'll see the glass thickness and specs listed in the product details.  The standard thickness for the vast majority of other products will be 3/8″ thick or 1/2″ thick depending on the size.   Tables are typically 1/2″ or 3/4″ thick.
Can I wait to paint or stain my door, once I receive it?
No. To prevent warping, and maintain the warranty, our door supplier requires that all doors be finish painted, stained or clear coated within 3 days of receipt. Even with their Primed products. Primed doors ARE sealed, so if stored properly, (see question about storing your door) they should be less prone to warping if left un-painted.
Can I store my door if I can't install it right away?
Not without risk of warping and voiding the door warranty. First, the door must be painted, stained or clear coated within 2-3 days of receipt, to SEAL it and prevent warping or peeling up of the veneer layer, and to maintain the warranty.  Once that's done, the door must ALSO be stored COMPLETELY FLAT. Put blocking under the door to keep it off the floor and prevent water damage. If it can't be laid flat, then it must be stored perfectly UPRIGHT. No leaning. Be sure to secure it with straps so it doesn't fall over and break. Also, the protective film is needed for a nice, finished paint job. The film should remain on the glass, but beware, after sitting for longer periods, residue will likely be left behind on the sandblasted surface when you remove it. If it does, the residue can be removed with clear acetone and microfiber towels.
Can I get a brand NEW, CUSTOM design?
Yes, you can!  In fact, the vast majority of our designs were all born out of a collaboration between our clients imagination, and our principal owner and artist, Chauncey Gannett.  A concept of what's envisioned is conveyed thru written descriptions and visual references like photos or other art, and from that, a scale drawing is created for approval.   The scale drawing is created upon receipt of a 50% deposit to place the order, or an art retainer fee.  The art retainer fee is 10% of the total price of the product, or a minimum of $350, whichever is greater.
Click below to submit a price request for a brand new, custom.  Please allow approx. 5-8 business days to receive your quote.
Request a Quote for a Custom Design
What does "Sans Soucie" mean and how did you get that name?
"Sans Souci" is French and literally means "without concern", meaning "without care" or "care free."   "Soucie" is the last name of the owner's Stepfather and Mother, who originally started the business back in the 70's.
Which Frosted Glass Effect is the LEAST expensive?
All our 1D Effects.
Which Frosted Glass Effect is the MOST expensive?
3D Enhanced! When you add Paint or color to the glass, it becomes the most expensive effect.
Which Sandblast Effects are completely private?
The effects that are done on what we call our "Frosted Finish", or "Private" Effects. When you select a product, next to the Effect name you'll see the words "Private", "Semi-Private" or "Not Private". Look for those words at the top of the Product Details!
Which side of the glass is frosted?
The simple answer is in most cases, the sandblasting will be on the back surface of the glass. So when you approach the glass, you would reach out and feel the smooth glass surface. That said, depending on the sandblast effect you chose AND the type of product, in some cases the sandblasting will be on the FRONT surface. For example, shower glass. For showers, you want the inside surface to be smooth, plain glass so you can squeegee the water off your glass after you shower, so for showers, the sandblasting will be on the FRONT surface. The reality is, the answer is actually complicated because different effects and products call for different surfaces.
Can you see thru frosted glass?
No. Only when items are pressed right up against the glass, can you "see" them thru the obscure glass. Once a few inches away, the object becomes blurred and disappears.
How do you paint the glass?
By hand thru airbrushing.
How do you Ship your Glass and Doors?
Your glass or door will ship fully insured by Freight delivery, and will be "Curbside".  Here's a helpful article about our lead times.  Some smaller glass orders like cabinet glass or shelves, will ship UPS Ground.
Do you offer Free Shipping?
Yes! We do! Some remote or rural areas and cities WILL incur shipping costs, but most orders ship for Free!
What if my Shipment is Damaged?
Your shipment is fully insured!  WE HAVE A LESS THAN 1% DAMAGE RATE!  Damage is very rare, but should you experience it, here's what you need to know, and what to do:
    1. All damages must be reported to Sans Soucie within 24 hours of delivery to qualify for a replacement order.
    2. If the box or pallet show any damage whatsoever, open the box immediately with the driver present.
If product is damaged:
    1. Write DAMAGED on the delivery receipt and refuse the shipment.
    2. Take photos of the damaged product, this can help expedite your remake.
    3. Notify Sans Soucie immediately by emailing: orders@sanssoucie.com
    4. Send us photos by text or email. Text: 760-474-7558   –   Email: orders@sanssoucie.com
Driver will take shipment back and return it to Sans Soucie.
Replacement orders take top priority and we will fulfill asap, however lead times may remain the same if your door material is not one that is a stock item of the door frame manufacturer.
What is Tempered Glass?
Tempered glass is heat treated and is about four times stronger than "ordinary," or annealed, glass. And unlike annealed glass, which can shatter into jagged shards when broken, tempered glass fractures into small, relatively harmless pieces.
Can I cancel my order?
Only within the first 24 business-day hours of placing your order.  After 24 hours, we have a no refund, no cancellation and no return policy.  This policy is listed on our check-out page, and within the linked Terms and Conditions at check-out, as well as inside your emailed Quote (for "new" designs) and within every emailed Order Confirmation.
Why?  First and foremost because each and every product we create is custom made to order.  Nothing is Stock.  This is because there are limitless size, effect and background combinations.  With all the options and possible combination scenarios, it's virtually impossible to stock any one of our products, in any form.
Second, because when we receive an order, we immediately get to work to fulfill your order as quickly as possible, within the estimated time frame we've given you.  Materials such as glass, hardware and the door frame, are in nearly all cases ordered the same day you place your order, or the following day.  Our glass vendors have a no refund policy for all glass ordered.  Period.  (Again, each piece of glass is custom-cut to order by the glass manufacturer, per piece).   Our door manufacturers give us a 48 hour window to change or cancel an order.  Hence, we allow a 24 hour window from our customers, because we only have 48 hours to notify our vendor to avoid charges.  Depending on the design and the effect you've chosen, we also immediately get to work on your drawing.   The very first thing we do, once materials are ordered, is create the scale drawing we need to create the stencil we use to mask the glass, to sandblast your art.  All this happens immediately, in many cases the very same day, or the next.
Interior Prehung Doors and Interior Slab Doors – What's the Difference?
Prehung interior doors are often chosen over slab doors (also known as a "book" door) for convenience and ease of installation. The prehung door is already hung inside a frame (hence the name "pre-hung"). By contrast, a slab door requires cutting out sections on the door for the hinges that will need to LINE UP to the pre-existing jamb. This can make for a more intricate installation, especially for DIY homeowners or inexperienced installers.
A "book" or slab door is suitable for either a remodel where you remove and replace an existing door and your existing jamb is in good condition. Or, new construction and your jamb is already in place, or if you're purchasing the jamb elsewhere.
Whether choosing from our existing selection or commissioning a new design, all our prehung interior doors and slab doors arrive unfinished, and ready to be personalized with paint or stain.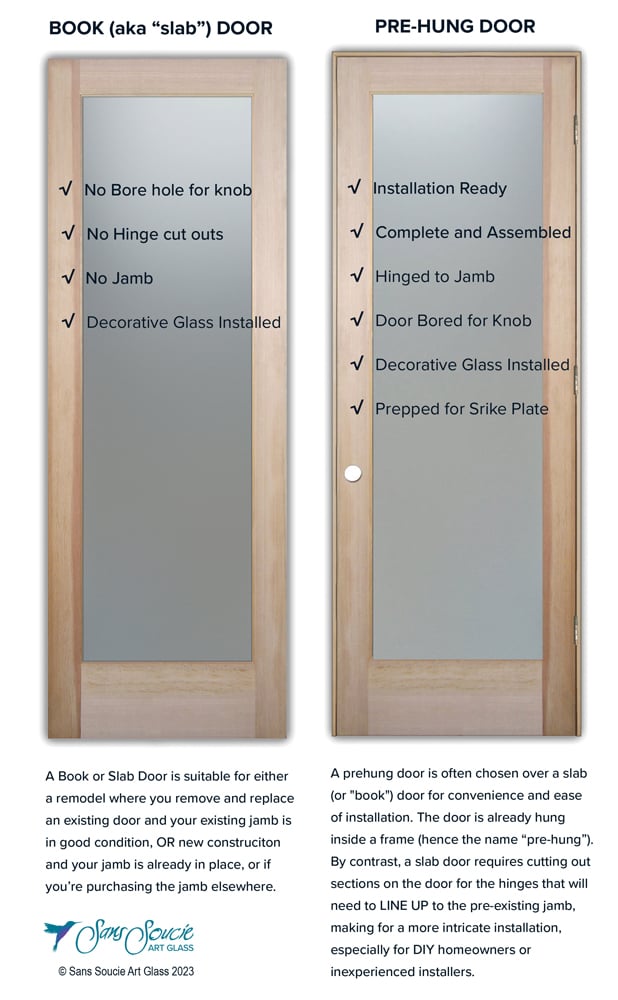 Benefits of Prehung Interior Doors and Slab Doors
Both interior prehung doors and slab doors have their own sets of benefits, depending on the circumstances of the installation and the preferences of the homeowner or builder. Here's a breakdown of the advantages of each:
Prehung Interior Doors
Ease of Installation: Prehung interior doors come with the frame and are already attached to it, which can simplify the installation process, especially for those with limited experience.
Consistent Gap: Because the prehung door is already hung in its frame, the gap between the door and frame should be consistent. This can help ensure that the door operates smoothly and latches correctly.
New Frame: If your existing door frame is damaged or warped, a prehung door provides a brand-new frame, which can offer better structural integrity and appearance.
Comprehensive Replacement: If you're looking to completely revamp or upgrade the appearance of a doorway, including the frame, then a prehung door is the way to go.
Weatherstripping: Often, exterior prehung doors come with weatherstripping already in place, offering better insulation and protection from drafts.
Slab Doors
Cost-Effective: Generally, interior slab doors are less expensive than prehung doors because you're only buying the door itself, not the frame or hardware.
Customization: If you want to match an existing frame or are looking for something unique, an interior slab door provides greater flexibility since you're starting with a blank canvas.
Less Weight: Transporting a slab door can be easier than a prehung door because it's lighter without the frame.
Reuse Existing Frame: If your current frame is in good shape and matches your decor, you can save time and money by just replacing the door itself.
Variety of Materials and Styles: Slab doors come in a wide range of materials, designs, and styles, giving homeowners a broader choice for interior or exterior use.
Which to Choose?
The decision between a prehung interior door or a slab door depends on various factors:
Experience Level: If you're a DIY homeowner with limited carpentry experience, a prehung door might be easier to install. However, those with carpentry skills might opt for a slab door to fit into an existing frame.
Condition of Existing Frame: If the current door frame is damaged, warped, or doesn't seal properly, a prehung door might be the better choice.
Budget: If you're looking to save money and your frame is in good condition, a slab door is often cheaper.
Customization: If you want a door that precisely matches your specifications in terms of design, material, or size, a slab door offers more flexibility.
In the end, it's essential to assess your needs, budget, and skills before choosing the best option. Both types of doors serve specific purposes and can be great additions to a home when selected and installed correctly.
About our Frosted Glass
Introducing the elegance and versatility of frosted glass interior doors – whether prehung interior doors or slab doors, they hold the power to elevate the aesthetics and allure of any room. These doors seamlessly blend different living spaces by allowing the flow of natural light, all while preserving the intimacy associated with traditional doors. The result is a home imbued with a sense of openness and airiness.
At Sans Soucie, we offer a myriad of customization options, enabling you to tailor the privacy level and dimensions to perfectly suit your space. Our exquisite custom glass designs not only enhance the visual appeal, but also cater to your unique privacy requirements. From bathrooms to bedrooms, closets to offices, the enchanting designs of frosted glass interior doors bring both illumination and seclusion, while enhancing spaces with a touch of artistry. Each door we create is a testament to over 50 years of expertise in the art of sandblast glass etching and carving, culminating in individually handcrafted masterpieces.
5 Benefits of Frosted Glass in Prehung Interior Doors and Slab Doors
Match Any Design Style: With nearly 50 years of experience in Frosted Glass, we have customization options that allow you to create any desired etched glass artwork, and select that perfect wood frame. We call this from concept to design! You can also choose from our vast catalog of unique ideas, that will create the perfect glass interior door to seamlessly match and elevate the style of your space!
Environmentally Friendly: Frosted Glass interior prehung doors and slab doors are both energy efficient and sustainable. The frosted glass allows natural light to enter a space while still providing great insulation.
Privacy Level Options: Get the privacy you need without sacrificing the light you want. Our prehung interior doors and frosted glass slab doors can be 100% obscure and private, semi-private, or not at all – it's up to you. Sans Soucie is committed to providing you with designs that can be executed to provide the right amount of privacy without sacrificing the beauty of your new glass interior doors.
Customize To Any Size: We can customize any glass door to fit the needs of your space. There is virtually no limit to the design possibilities. We will base the design on your decor, your preferences, and the architecture of your home or establishment. If you already have a specific design or vision in mind, we'll take that vision for your glass interior door and make it a reality.
What You're Getting
What type of door you choose, will determine what you you'll be getting. All of our glass is tempered for Safety. Glass will be 1/8" thick for 1D and 2D sandblast effects, and 3/8" thick for all 3D and painted glass.
If you choose one of our Prehung Interior Doors it will come "installation ready!" This means it will be completely assembled, with attached hinges and matching veneered jamb. A single prehung interior door will be bored for a knob, along with your decorative glass pre-installed.
If you choose a pair of prehung interior doors, they will ship as two interior Slab Doors, together with the jamb pieces and hinges, UNASSEMBLED for safer shipping. The hinges will be attached to the jamb and the door will have hinge cut outs. Our door vendor "builds up" your prehung pair, then disassembles it. Your will be receiving: Two slabs/book doors with decorative glass pre-installed, hinge cut outs, wood doors with matching veneered jambs, primed doors with matching primed jambs, a flat astragal, and hinges.
Slab Doors come with no hinge cut outs or bore hole.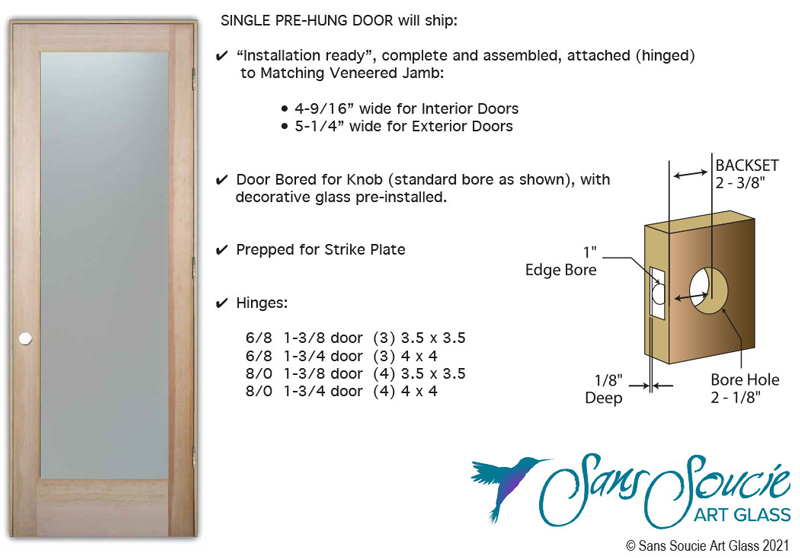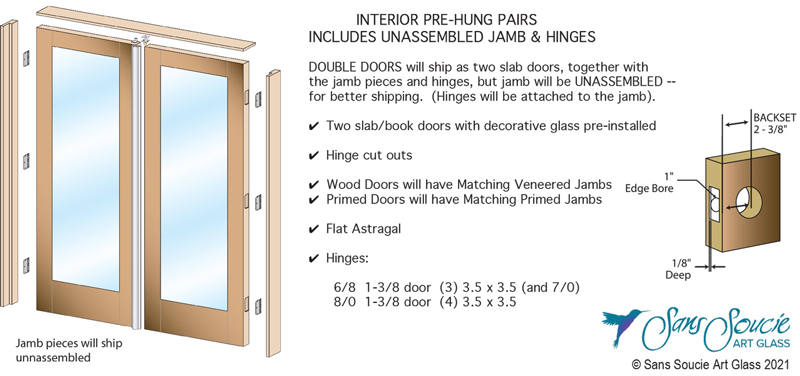 About our Door Material Options
All prehung interior doors and slab doors are SOLID (not hollow). We offer a white primed door and 8 different wood types. Doors arrive unfinished, ready for paint or stain. See our Wood Species Guide for full details.
Primed doors will be primed white for painting.  They are made up of a composite material that is a combination of pine and MDF ("Medium Density Fiberboard").
Wood Doors are solid core veneer.  The huge advantage of a veneer door is that unlike a solid wood door, it has a much better resistance against WARPING.  The engineered core combines resin and varying grain patterns that move in "self-cancelling" directions to stabilize the wood.  Not only do the glues and resins repel moisture, they also reduce movement, and thereby prevent warping.
Fiberglass Doors have three major components:  the frame, the core, and the skin.  The frame is made of a high strength composite material.  The core is filled with a polyurethane insulating foam for both insulation and soundproofing.  The door's exterior is constructed with high-impact compression-molded fiberglass.  Fiberglass doors mimic the look and feel of actual wood doors without the same risks of warp, rot, shrink or swell.
Painting or Staining Prehung Interior Doors and Slab Doors with Frosted Glass
Your door will arrive with a thin layer of film on your frosted glass, to protect it while you paint or stain your door. Leave that in place while painting or staining and when you're finished, you'll cut away the film with a blade. You'll need to paint or stain your prehung or slab door frame right away and be sure to lay flat when storing to avoid warping.
Installing Your Door
Installing doors is tricky business, so we highly recommend hiring a professional door installer for installation, especially when installing prehung interior doors. Here's a helpful article about installing your prehung interior door or slab door.
How We Make our Frosted Glass Prehung Interior Doors and Slab Doors
Sans Soucie Art Glass prehung interior doors and slab doors are custom-designed and handcrafted one by one. Our frosted glass designs are created by hand sandblasting, and leaded/stained glass is hand-cut and fabricated.
THE PROCESS:
DESIGN YOUR INTERIOR PREHUNG DOOR OR SLAB DOOR IN OUR FUN, EASY TO USE DOOR DESIGNER!
Our door designer tool will walk you thru a process where you get to customize everything about your frosted glass door, and see your image change as you make your selection!
Choose a decorative glass design from our vast library or work with our artists to create a brand new one-of-a-kind design to your specifications.
Select your type of glass effect:  1D frosted glass, 2D frosted glass, 3D carved glass, stained glass or beveled glass.
Select between a single door or double doors.
Determine the width and height of your door by carefully measuring the opening.
Select the material of the door from primed, eight wood types or a fiberglass door for exterior.
Decide between a prehung interior door in the jamb or an interior slab door.
If you choose prehung, you'll need to determine and selection a couple of things:

Swing Direction:  You'll need to determine which swing direction you want the door to have.  Choose from In-swing, out-swing, left-hand and right-hand door swing variations.  Our door designer tool demonstrates this using graphic illustrations.

Hinge Finish:  We offer 7 finishes that allow you to coordinate your hinge finish with your door knob and other fixtures nearby in the room (like cover plates, light fixtures, etc.)
About Our Price Options
Prices will vary by the complexity of the design and the type of sandblasting effect you choose. All our products are hand-crafted and custom made to order. Our 1D Effects are lower-end, more cost-effective options. Our 2D, 3D, painted glass interior doors are on the higher-end since these effects require a much higher level of skill and time for the artist to create.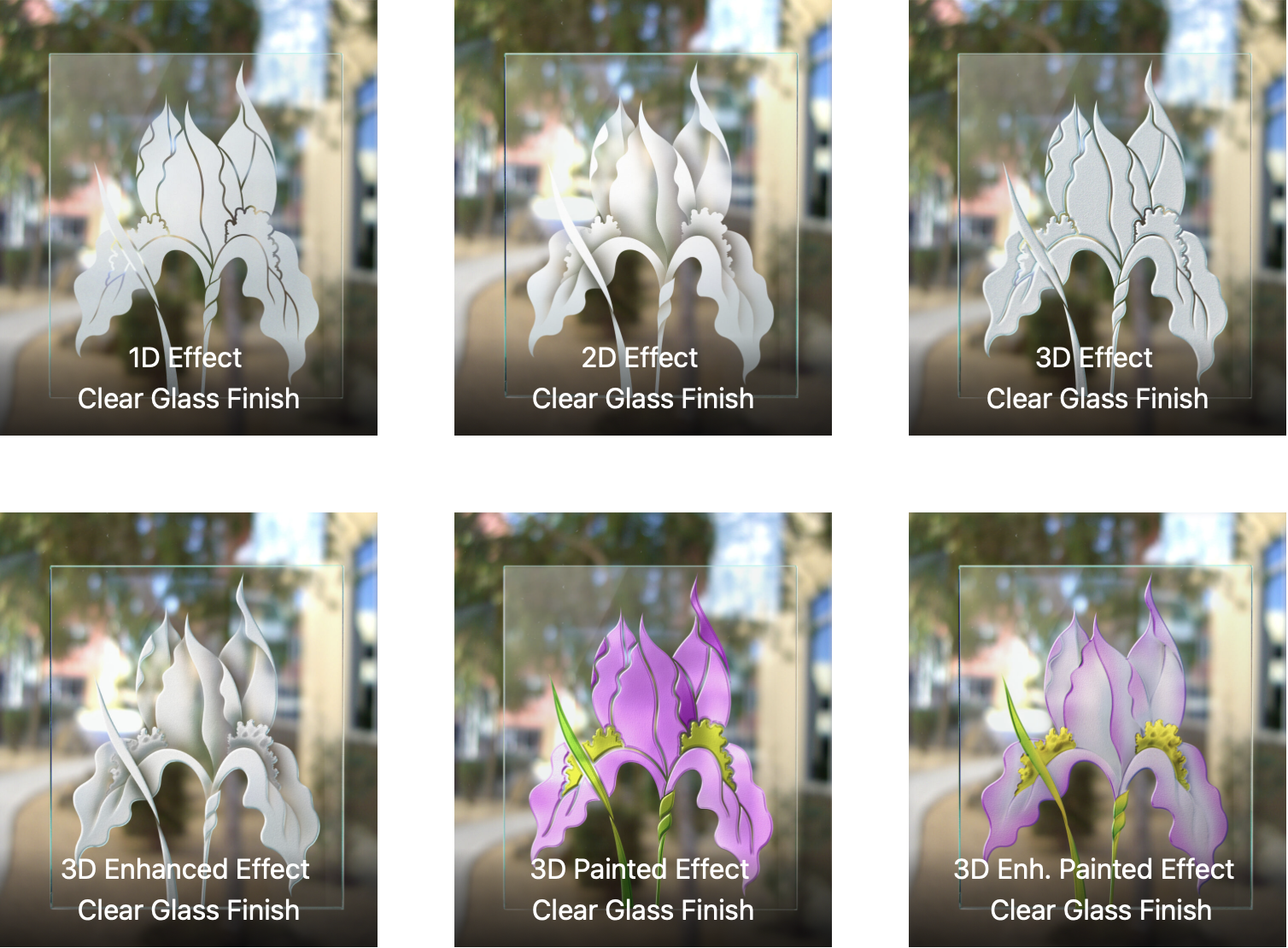 Timeline & Delivery ETA
If some color is desired, the 3D carved glass will be airbrush hand painted in either translucent or solid paints. The turn-around with any glass door, is 4 weeks minimum. If the order features a 2D or 3D design, expect between 6-9 weeks to expect to receive our glass interior doors.
All prehung interior doors and slab doors are expertly hand-packed in-house and ship worldwide, fully insured. Transit times are approximately 1-5 days, depending on destination. Your new glass door will be delivered curbside, whether it's a residential or commercial delivery. We offer slab and prehung interior doors for every person and their particular style. Feel free to contact us with any questions you may have.
Shipping Info
FREE SHIPPING FOR MOST ORDERS!  Shipping from Palm Desert, California, most orders ship FREE.  Shipments into some densely populated areas or remote destinations (that are off-shore, for example), may incur a shipping fee.
Your order will ship fully insured via Freight.  You'll receive a phone call as well as an email with a tracking number the day after your order ships.  Signature and inspection required,  "Curbside delivery" (the area immediately adjacent to the delivery vehicle) is included in your shipping price.  This means you will be responsible for moving the shipment from the street, into your home or garage.  Shipping does not include bringing the box into your home or garage, or any kind of set up.  The freight company will call you in advance to set up a delivery appointment.  More info. will be provided at time of shipment.
Pairs Ship Unassembled ("KD, Knocked Down")
Pre-hung pairs ship unassembled.  (Not hanging in the door frame/jamb).   This is necessary in order to avoid damage in transit, as all door parts get bundled and packed in the safest, most protected way.   It also keeps the overall size of the shipment smaller, resulting in lower freight charges.
See our Shipping Info. Sheet for more info.