Pantry Doors that Suit Your Style! Design Your Glass Pantry Door,
Just the Way You Want it!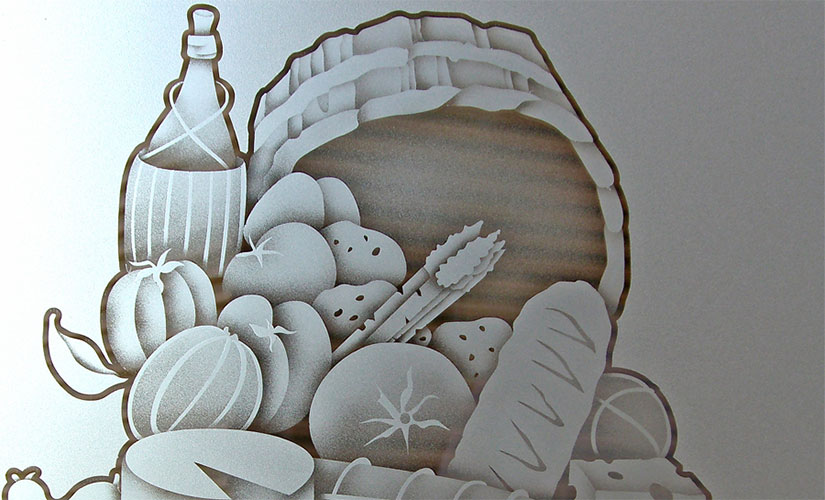 Block the view and brighten the look, with a beautiful etched glass pantry door by Sans Soucie!
Dozens of designs in any decor!
Mix and match borders, fonts and designs, creating the perfect look that'll spruce up your kitchen and bring in your taste!
Available:
• Any Size
• Pre-installed in a Door Frame
•  Shipping starts at $99 up to
   $199 to some States
• ETA will vary 3-8 weeks
  depending on glass and door type
A custom glass pantry door is a great way to add that something special, something unique to your kitchen. Get a traditional pantry look with a border and upper design, or choose a beautiful, full length Sans Soucie design from our vast design library. Available any size in 8 woods, as a slab door or prehung. Already have your door? Just get the glass insert!
Setting the industry standard since 1976, our designs are created thru sandblast etching and carving.  Using sand as their sculpting tool, our artists etch, cut and carve the design into the glass.  The white surface obscures the glass, diffuses light and eliminates glare – creating privacy without blocking light, thru a beautiful Work of Art Captured in Glass!  See our Effects.  With over 40 years of creating custom designs for a myriad of products, we've built the largest design collection of its kind – all available in different effects, privacy and price levels.   Choose from our vast collection of designs or let us create a one-of-a-kind creation perfectly suited to your taste and decor! See our Effects.
     

Don't know anything about doors?
           

No problem!
Our Glass and Door Designer makes it easy to customize everything about your door!  A preview image of your door changes with each selection, so what you see is what you get!    Price and ETA are shown as you customize!  Swing direction, wood type and even your hinge color is interchangeable and changes live as you design!  When you've created  your perfect door, simply place your order online!
Available as a slab door or pre-hung in the jamb, choose from 8 beautiful woods to coordinate perfectly with your bathroom decor!
    

Have an odd size door?
          

No problem!
Get any size you need!  Our Door Designer has multiple widths and heights built in, but any size can be custom ordered!  Simply contact us for a custom quote to get the size you need!
    

How much, how long?
Both vary by sandblast effect and wood type.
Everything is custom-made-to-order.  Douglas Fir and out 1D  sandblast effect are the most economical options, and have the quickest turn-around, with an ETA of approx. 3 weeks.  Our 2D and 3D  effects and  Specialty Woods (all woods but Douglas Fir), have an ETA of approx. 6-8 weeks.   Shipping is nation and worldwide and starts at $99.  All glass ships by freight carrier with a tracking number, fully insured and custom packed in-house by our expert artist glaziers.
    Sandblast Effect Pricing
Our 1D effects start on average at $45 per square foot, and have a 2-3 week average lead time.   2D and 3D are approx. 5-8+ weeks, with 2D effects averaging $85/SF, and 3D averaging $120/SF.  Our 3D painted glass, starts at $190, with beveled, leaded and stained glass being in the highest range, starting upwards of $200 per square foot.  Other options like gluechipping the background can be added.
Sans Soucie creates custom etched glass products for everywhere in your home!   Entry Doors, pantry doors, laundry room doors, interior glass doors, wine cellar doors, frameless all glass doors, bathroom doors, door glass inserts, windows, showers, shower doors, glass partitions, mirrors, tables and more!
Design the Door You're Looking For!